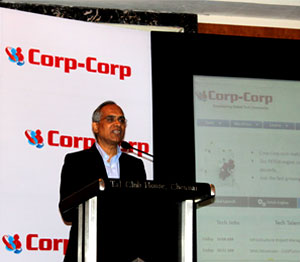 Chennai, 22nd July 2011: Corp-Corp.com, a US based technology job portal launches its global platform today. Mr.Lakshmi Narayanan, Vice chairman of Cognizant Technology Solutions and President of TiE Chennai, inaugurated the portal at the launch event in Chennai. More than 100 IT executives from global IT services companies participated in this event.
Corp-Corp.com helps IT companies find the best fitting resumes open for a job, position or a project in 30 seconds. It effectively replaces the time consuming, manually tedious and error prone task of scanning thousands of resumes to fit a job. Corp-Corp's highly automated relevant candidate recommendation system that has proven effective for over 6000 IT consulting & staffing companies in the USA over three years. The portal receives over 40,000 tech job openings in a month.
"With the growing demand for the IT sector in India and globally, better utilization of current available resources is the best and only option for companies to meet their demand. Corp-Corp global tech job portal is highly customized and fine tuned very specific to current technology market demand and supply as well as candidate's personal preferences. This will create big opportunities for US and India based consulting & staffing companies to collaborate and provide services globally," says Prabakaran Murugaiah, Founder & CEO of Corp-Corp.com [Now TechFetch.com]
Corp-Corp.com provides a platform for US citizens, Green Card Holders, H1B's, and IT companies to find project or talent in the US. The new global platform will enable Indian IT companies to quickly find US based resources and deploy for onsite projects in US as well as find candidates in India for the offshore operations.
Candidates who want to work globally can register their resume at Corp-Corp.com and receive relevant projects or positions automatically based on their personal preference and experience. There is no fee for candidates. Companies can post global jobs and access global resume database at nominal subscription fee.
"The platform brings global IT companies, specialty consulting companies, recruiters, subject matter experts, solution architects and technology professionals under one roof. The demand for highly specialized skilled talent is increasing exponentially, the need for building a global team is more than ever. Our portal is expanded to fulfill the current industry demand and help companies to create jobs quickly," Mr.Murugaiah, added.
Corp-Corp Global operations outside USA will be executed through joined venture partners in many countries to create opportunities for highly experienced tech talents globally.