Discussion: Tech Consulting & Staffing Companies Growth Opportunities
Build, Scale and Exit Profitably
Join us for a special luncheon discussion with top executives of high growth IT consulting and Staffing companies. This is limited seats focus group networking, so please register at your earliest. Don't miss this once a year great opportunity in your area.
Speakers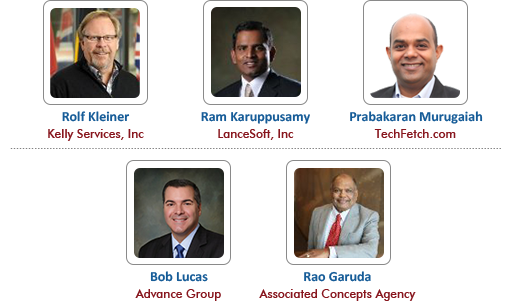 Agenda
11:00 AM - 11:30 AM
Participant Introduction & Networking
11:30 AM - 02:00 PM
Interactive Discussion & Presentation (Working Lunch)
Keynote: Focus on Growth: Back to the Future


(Mastering your core competency)




Rolf Kleiner - CIO, Kelly Services, Inc.,

Growing Technology Staffing Business


(Build, Scale and improve operational Efficiency using Acretix Platform)




Ram Karuppusamy - Chairman & CEO, LanceSoft, Inc.,

Tech Jobs Trends & Opportunities


(1+ Million new jobs in emerging technologies, harnessing $100B opportunity)




Prabakaran Murugaiah - Founder & CEO, TechFetch.com

Growth Funding Strategies


(Optimize your cash flow and options to fund your growth)




Bob Lucas - SVP - Business Development at Advance Group

Tax Savings for Business Owners


(Financial guidance for high networth individuals and entrepreneurs)




Rao Garuda - President & CEO, Associated Concepts Agency, Inc.,

Early Bird Special Offer - $75
(till Oct 14)
Regular Fee - $125

Who should attend?
✓
Technology Product Companies
✓
IT Staffing Companies
✓
IT Consulting Companies
✓
System Integrators